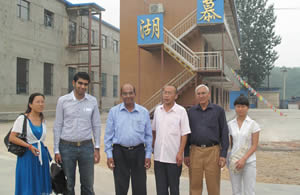 MUHU Construction Chemical is a high tech enterprise with three manufacturing locations in Beijing Hefangkou Industrial Park, Qinghuangdao, and Zibo.
In Hefangkou Industrial Park, MUHU Construction Chemical utilizes production lines for our naphthalene super-plasticizer, amino superplasticizer, dry concrete mortar, polycarboxylate superplasticizer, and melamine superplasticizer.
From raw material to the finished product, every step of the production process must pass strict testing in order to meet national standards. Our manufacturing procedures are in accordance with ISO9001 standards as well. In fact, much of our equipment is automatically controlled, enabling us to provide high quality, consistent, and standardized products for all our customers.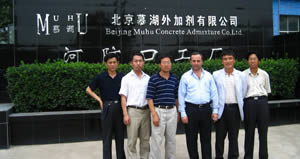 Our annual production capability includes 10,000 tons of PCE type polycarboxylate superplasticizer, 20,000 tons of SNF type, NSF type, and PNS type sulfonated naphthalene formaldehyde condensate, 10,000 tons of AS type amino acrylsulphonate phenol formaldehyde condensate, 5,000 tons of SMF typemelamine sulphonate formaldehyde condensate, and 20,000 tons of dry concrete mortar.